Fault indicator unit FMG 100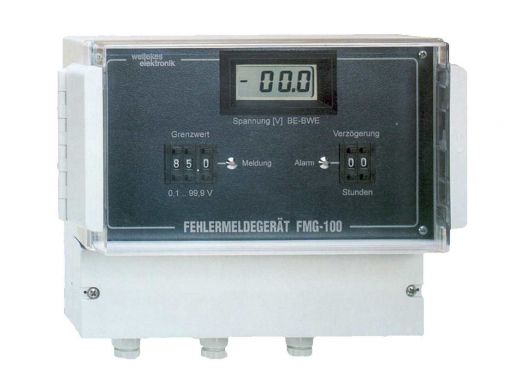 The Fault Indicator Unit enables permanent, economical supervision of galvanic separation of track earth and reinforcing / building earth.
DC streetcar operations create changing DC voltages between tracks and buildings. Occurring low resistance interconnections between those earth potentials result in decreasing voltage changes, which in turn will be detected, analysed and indicated by FMG 100.

Once the FMG has been installed in a building to be supervised a voltage limit may be set for reference purposes.
Understepping this reference limit forces the FMG 100 after pre-determined time delay to initiate alarm condition transmitted via potential-free change-over relay contact.

Short time understepping of voltage limit as possibly caused by activation of short-circuits or during off-hours, will not lead to fault indications because of pre-settable time delay ranging from 1 to 99 hours.

FMG 100 contains a high resistance measuring input using a 31/2 digit LC-display to indicate present input voltages.
While voltage understeppings will be displayed instantly by LED, alarm conditions, however only transmitted via potential-free change-over relay contact after laps of pre-set time delay. This alarm condition will be displayed additionally by secondary LED at unit. Once cause of the alarm has been rectified any alarm condition will be set back automatically.

Description of Functions
A dual-key selector switch mounted on the front plate of unit allows the settings of voltage representative of value of voltage between track and reinforcing / building earth to be monitored.
This voltage limit is selectable within ranges from ±0.1 to ±99.9 volts / DC.

The FMG unit constantly displays the voltage to be supervised by means of LCD while comparing it with the voltage limit pre-set.

A dual colour LED installed next to limiting voltage selector switch is being used to indicate values above pre-set limits in green and those ones below in red.
To avoid false alarms the logic of FMG transmits any understepping of voltages limits only after time delay. This time delay may be adjusted among 1 and 99 hours by selector key switch.
Only after lapse of present time delay an alarm condition will be indicated by red LED and transmitted via potential-free relay contact.

Once the cause of alarm condition has been rectified the FMG cancels the alarm condition. The alarm relay has been circuited as N/C contact operation so that even disruption of 230 V supply voltage will be indicated as alarm by FMG.