DC-2000

Battery- and mains powered DC-Microvoltmeter with high measuring sensitivity, built-in active filters and analogue display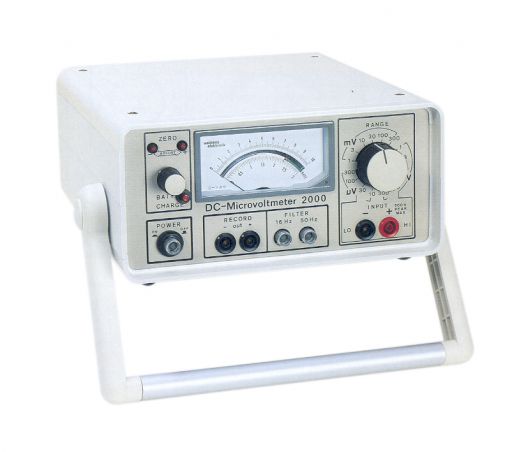 The microvoltmeter has a sturdy plastic case with a carrying handle which can be adjusted in 30° steps. Controls and indicators are installed in a clear, logical configuration and are grouped together in accordance with the various functions of the unit.

Measuring Range and Input Resistance
The microvoltmeter is a highly accurate moving coil instrument equipped both with batteries and with a mains connection. Two scales with 10-unit and 3-unit divisions are provided. Fullscale ranges from 10 µV to 300 V.

Polarity Indicator and Zero Adjustment
The automatic polarity switching ensures correct readings irrespective of polarity. Two Led´s on the front panel indicate the polarity of the voltage measured. A control is provided for zero adjustment in the µV-range.

Active Filters for eliminating AC influence
The 16 Hz and 50 Hz active sharp cutting low-pass filters installed in the unit can be switched-on to eliminate interference AC frequencies.

Isolated Amplifier Output
The front panel also houses a 1 Volt output socket for the connection of an external chart recorder to document the measurements. A special isolating amplifier is connected to the socket to isolate it from the input circuit. Recorders with earthed inputs can therefore be connected without distorting the measurements.

Mains- and Battery Operated with battery capacity testing capability
Power supply is either 230 Volt from the mains or from the built-in lead gel batteries. The unit is equipped with a built-in battery charger and an automatic monitoring system and protection against excessive discharging. Both battery charging and the actual battery capacity are indicated.

12 Volt Option
A DC / DC converter with a screwed plug connecting to the rear panel of the unit is available as an optional extra to permit the use of a 12 Volt car battery to power or charge the unit during field measurements.